"Success is stumbling from failure to failure with no loss of enthusiasm." -- Winston Churchill, racehorse owner
Persistence and enthusiasm are essential attributes in any facet of life, but especially for anyone involved in horse racing, where the difference between winning and losing is often razor thin.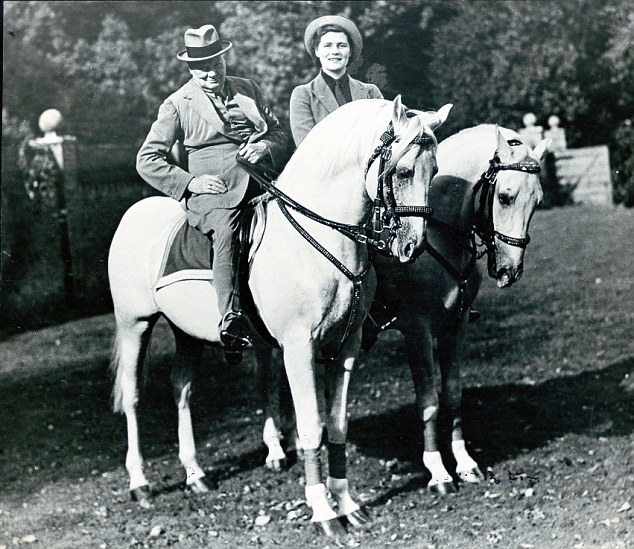 Churchill: PM and, oh by the way,
prodigious racehorse owner
A jockey, trainer or stable that wins 20%-25% of the time is considered extraordinary (
or juicing their horses
). Participants who score at a mid-teens clip are nearly just as successful.
Even the apprentice or 2% jock who regularly rides the bottom-level claimers in a track's closing race wins once in a blue moon or helps horseplayers underneath in exotic wagers.
Meanwhile, bettors can still profit after taking a beating all day with one well-placed wager. NHC Tour players can take down a contest with a modest bankroll and a late-contest long-shot.
More often than not, however, most get the short end of the stick.
Exiting the track mentally fatigued after a bitter defeat in Sunday's NHC handicapping contest finale at Monmouth Park, as always a thousand different thoughts had crossed my mind in how I squandered a good chance at finally winning a seat to the National Handicapping Championship (NHC). To wit...
Could I have managed my bankroll any better?
Am I a good enough handicapper to even consider winning a contest?
What was I thinking investing $10 in a horse ridden by Francisco Maysonett?
Was my blood pressure much higher from the stress of the handicapping contest, or after eating the egregiously salty (though tasty) clam chowder at Monmouth Park?
Surely there were others, but after a relatively restless sleep and few days off from anything dealing with racing, I stopped beating myself up, tightened my boot straps, and got back in the saddle in an online contest on Friday after work. I came out on the short end, but hit some decent calls and finished in the top third, reaffirming my confidence that I can compete and will remain persistent in pursuit of an NHC berth.
Echoing the sentiments of my pal at
Red Rock or Bust
, in hindsight there was more good than bad on Sunday for NJ Horseplayer. After moving sideways through 3 contest wagers (including a near-miss on 9-to-1
Young Dude
in the
Woodbine 3
;
I did hit the place end of the $5WP wager
), I dropped five straight, beset by several bad trips and disinterested horses. I
finally
showed more patience in passing on some races, but my handicapping simply proved poor during that stretch.
With my $100 starting bankroll diminished to $41.75, I felt pretty good about 17-to-1
Sea Bank
in
Woodbine 6
, a $50k maiden special weight where the favorites looked extremely vulnerable.
Sea Bank
had just one race under his belt, but seemed logical off an unimpressive debut in which he at least ran even after a bad start -- a bullish and recent successful angle for me at the MSW level. I banked on
Sea Bank
getting the lead at 9 furlongs and discouraging the other maidens, which is precisely what happened.
Sea Bank turned my $10W wager into a $171 profit and ran my bankroll to $212.75 -- a bankroll through nine of 10 compulsory contest races good enough to either sit tight and reserve for one big wager in hopes of winning the contest, or take some chances to move up the leaderboard.
$10P instead of $10W on my next bet (7-to-1 Holy Smoke in Monmouth 7) would have run my bankroll to $228.75 instead of down to $202.75
$10P instead of $10W on 7-to-2 Any Given Royal would have pushed my bankroll to $240.25, rather than down to $192.75
Three races later, and $20 lighter, I would have been better served putting $15S on 26-to-1 Speaking Lib in Monmouth 9 rather than the $5W-$10P wagered; Lib ran a very game third, paying $9.40 to show, meaning that my bankroll could have been ~$218 instead of $147.75.
Next race, $10P instead of $10W on 27-to-1 Clementis in Woodbine 9 would have netted me $67.50 and a ~$280 bankroll with two races remaining, instead of $137.75.
Granted, if Speaking Lib and Clementis win their respective races, I'm probably near the top of the leaderboard regardless and looking REALLY smart, but in hindsight a smarter strategy would have been much bigger place wagers on 1-2 of the aforementioned long-shots, i.e. $50P-$75P. These were legit picks in a real-money contest, not some online contest stabs at getting lucky. Clementis, especially, was extremely attractive, in my view, to at least run for a share in a race with a lukewarm favorite. To be sure, 25 times $15.50 (Clementis' place payout) would have produced a nearly $400 profit, instead of the meager $67.50 booked.
I'd have been licking my chops (
and probably sweating profusely with nerves
) over a $600-$700 bankroll entering the mandatory
Woodbine Mile
and the Woodbine finale, and probably have put a sizable bet on the obvious favorite
Wise Dan
. Instead, trailing in the standings and in need of a price to get near the top of the standings, I had what was still a credible $137.75 bankroll and made a less-than-confident $20W-$30P wager on
Big Band Sound
, who trailed throughout.
I squandered my final $87 on
Soap Opera Star
to win in
Woodbine 11
--
somewhat of a reach at nearly 25-to-1, but a horse 3-for-3 in the money at 7 furlongs and who had shown some early lick and I estimated could get the lead and
maybe
upset, but that was not in the cards, as she got within a neck of the lead in the stretch before fading.
Clearly I landed on the wrong long-shot in the finale, but I would have been kicking myself repeatedly had
Soap Opera Star
finished second, considering the actual runner-up in that race (27-to-1
Summer Ending
) paid $22.10 to place! Betting (in my case) $87P on Soap Opera Star
could
have been equally productive, considering a ~$900 payout would have put me within reach of
second-place contest finisher
Mark Acerra, whose bankroll totaled $908.90. If not an NHC berth, I could have come away with about $3k between bankroll and third-place winnings (bankroll for the third-place finisher was $755.20).

Sunday's performance was less severe a stumble than my past live-money contest performances during 2012 in that I competed to the end, but the end result was the same -- tied for last place.

Assuming Churchill was correct, this latest failure did nothing to deter my enthusiasm for getting to NHC XIV in Las Vegas in January 2013. I'm relegated to online tournaments as time and budget will allow for the duration of the 2012 qualifying season, but I welcome more stumbles and potential failures, recognizing that contest success and an NHC berth soon will come.