A 72-hour cooling off period is not nearly enough to ease the anguish over a difficult result in Saturday's first of three Simulcast Series Challenge handicapping contests at Monmouth Park.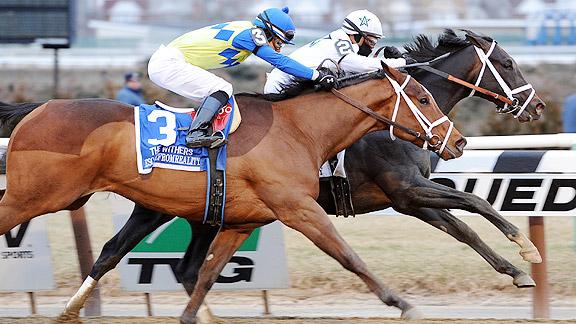 Revolutionary wins by a neck
in the Grade III Withers
Two outcomes reversed what was a relatively positive day for NJ Horseplayer, where I was among 230 players gunning for a Top 20 finish that would have put me into the
SSC Invitational
on April 20 (
where the top 2 of 60 qualifiers will win a berth to the 2014 National Handicapping Championship
):
an EXTREMELY questionable disqualification of one of my horses
Revolutionary's gutsy win in the Grade III Withers Stakes
Ahead of the contest where players could bet on any of the races carded at Aqueduct, Tampa Bay Downs and Gulfstream Park, I had handicapped the full Aqueduct card and the first 9 at Tampa, honing in on a few good opportunities early in the contest card.

Tug of War (4-1) was a flop in the opener at Aqueduct, but I hit on back-to-back prices in my next two:
$5 win-place on 8-to-1 Coffee Clique in the opener from Gulfstream
$10 win on 7-to-1 Blackeye Wynn in Race 2 from Tampa
Coffee Clique
was a last-minute pick (hence my tepid $5 WP wager).
The race caught my eye because another horse entered,
3-to-1 morning line favorite
Jadira
, was one of my top picks...in a race on
Tampa's
card.
Jadira
scratched from Tampa and ran
here
, and was bet down to 2-to-1. At that short a price, I saw the value in
Coffee Clique,
ridden by Joe Rocco and trained by Brian Lynch, first time on grass and it paid off -- $18 to win and $7.80 to place, running my starting $100 bankroll to $144.50.
Blackeye Wynn, meanwhile, was one of my top picks, and in hindsight I could have been more aggressive with my wager, but the race went off right after Gulfstream 1 had ended, and so my reaction was slow.

The final odds might have been better had the field not scratched down to 8 from 10, but my horse made a lot of sense, considering the primary threat, even-money Late Developer, had never gone 7 furlongs and I thought might get snookered (and subsequently discouraged; it was an $8,000 claimer, after all) by cheap-speed long-shot I'am a Player. The race went as planned, with Blackeye Wynn rushed to the lead by Huber Villa-Gomez winning by an uncontested length and paying $16.60 to win.
So, after 3 wagers, I more than doubled my bankroll to $217.50 -- near the
artificial goal of $250
that I figured would be needed to make the Top 20 and SSC Invitational, but with
lots
of racing to go.
Enter the Tampa Bay Downs Stewards...
Finding myself in a relative comfort zone, I revisited some
capital preservation strategies
discussed here almost exactly a year ago. Rather than a full-bore show-bet mentality, however, I co-mingled lower-basis minimum ($10) wagers over a dozen more plays, but stuck to my prior-night's handicapping and notations on my past performances.
To: Tampa Stewards
From: NJ Horseplayer
The first was $5 win-place on long-shot
Duty Blues
(15-to-1 morning line) in Race 3 from Tampa, I considered a route horse at heart who was way over his head in prior overnight dirt stakes at Calder and 5-furlong grass sprints at Tampa. I thought the horse would be overlooked (he was, going off at 18-to-1) stretching out to a mile, 40 yards on dirt, even in a middling 7-horse field at the $30,000 allowance condition.
Duty Blues
outran all but 1 horse in the stretch to finish second (to 5-to-2 favorite
Thank U Philippe
), so if nothing else I was going to cash a $5 place wager on an 18-to-1 overlay, right?
Wrong!
In what I would consider one of the worst judgments I have seen, the stewards disqualified
Duty Blues
for supposedly interfering with a clearly fading fourth-place (also 18-to-1)
Shellback
in the stretch.
I have watched the replay at least a dozen times (
here's the link
) and remain baffled. As I see it, Jose Lezcano came in with
Thank U Philippe
on
MY
horse, who maintained a straight line and was bumped inward by the winner near the finish. To boot, you can see jockey Antonio Gallardo did all he could to keep
Duty Blues
straight, and when
he did
move inward, it was
AFTER
Shellback
clearly began to fade (clear at the side angle). Heck, in the head-on replay you can even see the tiring
Shellback
wanting to drift out with his head veering right. Give
Shellback
jockey Scott Spieth an Academy Award, too, for pulling up his fading horse right before the wire.
Once Tampa publishes the
Steward's Report
I will post it here, but considering the ruling took more than 10 minutes to announce (and very confusingly, at that), I found the decision extremely fishy, as did fellow contest player Paul Zerbst, who had
Duty Blues
as well. Heck, we both thought, if anything, the winner could have been disqualified and
our horse
moved up to first (not dropped to fourth)!
Perhaps we're biased, but I have seen far worse interference and no resultant D'Q. I
tweeted
@TampaBayDownsFL
on Saturday night about this, to no avail.
Turning to Capital Preservation
The
Duty Blues
dissertation and D'Q aside, my focus remained firmly on the races ahead.
Originally, I planned to sit out from lackluster Aqueduct races 2-8, but with a $207.50 bankroll figured I would dabble in some show-wagering strategies.
Race 4 provided such an opportunity -- a 5-horse field with a prohibitive favorite in 1-to-4
Princess of Sylmar
in the
$100,000 Busher Stakes
.
As bridge-jumpers were in on
Princess
in the show pool, I figured it was worth risking $10 in the event
Princess
stumbled or got a really bad trip and finished out of the top 3, but that did not happen. My horse, second choice
Kelli Got Frosty,
finished second, for a virtual wash on my $10 show bet. (
The same scenario played out in Gulfstream Race 5, won by the impressive Verrazano at 1-to-9.)
I came up empty on $10W bets at Tampa, where both runners ran game seconds --
4-to-1 Judge Well in Race 5
and
8-to-1 Kitten's Dumplings in Race 7
. Sure, I could have gone conservative there by mingling in place or show bets, but at the same time I was within striking distance of cash prizes to the Top 10 contest finishers to entirely scrap win-only wagers.
My tenth contest wager, and the only one I'm really kicking myself about, was a somewhat impulsive $10 show wager on
Isn't He Perfect
in the Toboggan Stakes from Aqueduct He ran disinterestedly under an impassive Irad Ortiz and finished 5th of 6; this was another race with sizable show money bet on the favorite,
Johannesburg Smile
, but my strategy backfired. Still, my bankroll was $169.
Revolutionary Ride
The handwriting on the wall was becoming clearer to me after contest bet #11 -- a $5 win-show wager on 16-to-1
Escapefromreality
, a
Read the Footnotes
3-year-old who made a lot of sense to me as a possible upset play to 3-to-4
Revolutionary
in the
Grade III Withers Stakes
from Aqueduct. I went show instead of place again because the bridge-jumpers were out en masse for
Revolutionary.
I figured that, in the odd chance that
Revolutionary
misfired, the show payout would have been grand.
On my PPs the night before, I made a note: "
give long look @ 3."
For background,
Escapefromreality
broke his maiden first out at Aqueduct in November and got beat by a neck in late-December in a $54,000 New York-bred allowance by
Go Get The Basil
, a next-out winner January 31 when stretching out first time around two turns (1 mile). I speculated that
Escapefromreality
could do the same.
Too bad my race was a mile and a sixteenth (instead of just a mile).
Jose Ortiz gave
Escapefromreality
as good a trip as any, getting out of the gate without trouble and saving ground through the backstretch. On the other hand,
Revolutionary
seemed to be having a hard time, trailing the field into the homestretch and stuck behind others along the rail.
Into the stretch, Ortiz moved
Escapefromreality
outside of two horses and appeared set for an upset...until Javier Castalleno, proving his expertise, patiently waited for an opening and exploded past
Escapefromreality
to win by a neck.
Talk About Deflated
Instead of a $270-plus bankroll and pretty much a guaranteed spot in the SSC Invitational, I sat there stunned by
Escapefromreality
's defeat and frankly failed to respond, whittling down my $166.50 bankroll to a final $77.50 with some tepid plays and a skittish -- and failed -- $50 win wager in the finale that capped my afternoon. Had I been confident in a particular horse in the finale (
Tampa Race 12
) I would have gone all in, but by that point I settled on a horse I found logical around 4-to-1 and bet enough to gave myself an outside shot at the Top 10 and almost certainly a necessary Top 20 finish, without zeroing out.
Monmouth Park has yet to validate the final standing for SSC#1, but I marked the winner down at slightly above a $1,000 bankroll, and 20th-place (good enough for the SSC Invitational) at $230.50.
It was not holding, coach
Building upon my $217.50 high watermark with strictly show wagers would not only have been boring, but perhaps fruitless on a day where big favorites largely prevailed. Perhaps a conservative strategy would have done the trick, but I have no regrets on a day where my handicapping was strong (i.e. hitting 2 plausible long-shots back to back and cashing 4 show bets) and I had 4-5 near misses on others.
Not to turn
Jim Harbaugh
on everyone, whining about the officiating, but after three days of reflection, the Tampa Bay Downs third was an obvious momentum changer that proved difficult to ignore.
I can accept being beaten by what looks to be a Kentucky Derby contender, not by a subjective and questionable decision by three people behind the scenes.
Next up:
SSC#2, Saturday, March 2
. I hope to be there...and see you there!