It's obvious that Orb will go off as odds-on favorite in the 2013 Preakness Stakes, but I am not entirely certain that's the smart money, even if on paper the Kentucky Derby champ appears best in a 9-horse field.
There are two new shooters in the mix --
Departing
and
Governor Charlie
- that drew my attention, even though both come out of less-than-spectacular fields in their prior races.
Departing
is my top choice and, in my opinion, will be grossly overlooked on Saturday.
As of late Friday,
Departing
was getting little respect as well on
Public Handicapper's odds board
at 11-to-1, nearly double his 6-to-1 morning line and third-highest on the board, just ahead of Oxbow and well ahead of
Titletown Five
, whom Bart Starr and Vince Lombardi could not even save in this spot.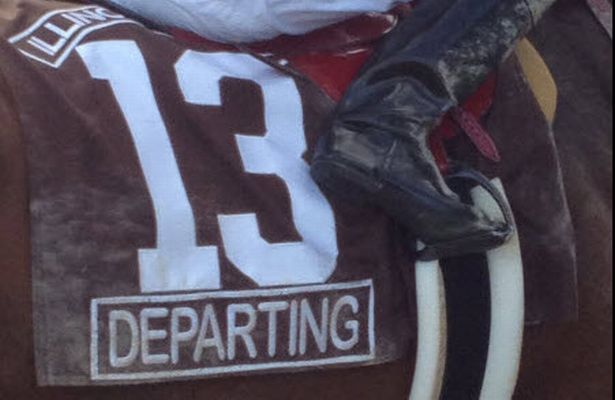 Banking on Brian Hernandez
In my opinion,
Departing
has done nothing wrong, having won 4 of 5 career starts, including the Grade 3 Illinois Derby in convincing 6-wide fashion, and was full of run but compromised late in the Grade 2 Louisiana Derby when rider Brian J. Hernandez rode up eventual winner
Revolutionary's
tail in the stretch and had to shift sharply twice but finished an engaged third.
I simply think
Departing's
style fits Pimlico. The horse seems comfortable from a stalking position and seems easily capable of gaining ground late, as evidenced by as 12.3 final eighth mile in the Illinois Derby and outdistancing the competition by 3+ lengths even after running 6-7 wide. Whether Hernandez can steer his mount away from trouble is my primary concern, but I think
Departing
could loom large on Saturday.
Governor Charlie
drew my attention as well, and clearly trainer Bob Baffert owns this race, as evidenced by five Preakness titles, but the Sunland Derby was bereft of talent. The place and show runners in that field did little in their ensuing races.
Still, this horse can easily get the distance while forwardly placed, and so I will use him and
Orb
under
Departing
in very small Preakness (Race 12) bets.
See Tobe Score
The handicapping that I put into the Preakness revolved around this week's Public Handicapper all-stakes Pick 4 from Pimlico. Whether I'm alive to my egregious long-shot of the day is another question, but I really like the chances of 20-to-1 morning line shot
See Tobe
in the Grade 2 Dixie (Race 11).
The Dixie has some big names -
Willcox Inn, Optimizer
and
Swift Warrior
-- to name a few, but in my opinion a lot of the 13-horse field is either somewhat off form (i.e. Grade 3 winners
Doubles Partner
and
Humble and Hungry
) or on the downside.
As I see it, 7-to-2 morning line favorite
Optimizer
will get a ton of respect off his second-place finish in the Turf Classic at Churchill two weeks back, and 4-to-1
Swift Warrior
will take money as well off two straight Grade 3 wins, even though those races were at Tampa and Sam Houston - not world-beaters.
If the Public Handicapper odds board is any indication, horseplayers will dismiss
See Tobe
, the second-longest shot as of Friday evening at 57-to-1. I would take those odds any day.
See Tobe's
running line will reflect primarily a local Maryland-New York type runner with lots of runner-ups against perceived lesser company. Five races back, however,
See Tobe
showed good late kick to finish second to
Boisterous
, a multiple graded stakes winner with $800k+ of earnings, in the Grade 3 Knickerbocker. Toss his 2013 debut and note the decent late-running fifth to some good horses like
Bad Debt
and
Sleepless Knight
eight days later and I think you've got a bomber with a serious shot to upset.
Banking on Rudy
The first two legs of Saturday's all-stakes Pick 4 are far less exciting, in my view, but I'm sure I'll be kicking myself for leaning toward back-to-back Rudy Rodriguez runners in the Grade 3 Gallorette Handicap (Race 9) and Grade 3 Maryland Sprint Handicap.
In the Gallorette,
Silver Screamer
gets the nod for me at 8-to-1. Perhaps the "No Rider" notation for
Silver Screamer's
jockey explains why he's 18-to-1 on Public Handicapper, but I'm willing to roll the dice on a horse who fired very well off his last two layoffs and I anticipate will benefit from drawing outside. This horse, assuming he's still in on Saturday and finds a rider, seems capable of stalking early pace, as evidenced in the 2012 Eatontown at Monmouth Park.
Rudy's next runner,
Sage Valley
, may be a single for me in the Pick 4. After spending too much time assessing this field, I simply think
Sage Valley
is the best horse, and I'll be glad to take the 9-to-2 odds offered on Public Handicapper. I continue to waver on this one, but
Laurie's Rocket
looms the primary danger, in my view, and I may leave him off my tickets.
All-Stakes Pick 4
Good luck to those of you playing on Saturday, and if you want to burn your money, there's no better way than following the sage advice of NJ Horseplayer.
$1 Pick 4, Race 9: 1, 4, 6, 9 with 10 with 4, 8, 10 with 1, 4, 8 = $36

I would substitute 8 as my single in Race 10 if the 10 horse scratches

$2 Double, Race 11: 8 with 1, 4, 8 = $6
$10 Exacta, Race 12: 4 with 1, 8 = $20
$20 Win, Race 12 (Preakness): 4, Departing = $20