Initial impressions are extremely important, and if yesterday's experience in the $25 NHC Qualifier on Derby Wars.com is any indication, I'm declaring this nascent operator the big winner among online contest sites.
The technology behind the site appears top notch and I found to be user friendly. Aside from its far-sleeker appearance than otherwise functional venues such as NHC Qualify.com and Horse Tourneys.com, Derby Wars.com does some little things that I found helpful. Instead of having to shuffle back and forth between pages, most of the contest features I need to access are on one page. The ability to change on the fly with my selections, view my ultimate picks and outcomes, and see the leaderboard all on one screen was extremely helpful. In addition, the player chat feature can be interesting to follow and makes for a more-personal experience than other sites.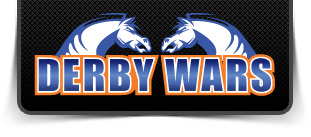 Where it all happens the next three Friday nights!
In terms of the contest flow, I loved that the 12 races moved rather quickly -- especially appealing for a time-constrained guy like me who appreciates that the contest wrapped up in 2 hours, 15 minutes. Quick decision-making was a fresh break, too, from some contests that take 4+ hours to get through, or where the organizers pick two tracks with races going off almost concurrently. The flow of Friday's contest was a huge plus, in my consideration.
Regarding my outcome
(111th out of 267), I made it to around 35th-place after hitting in contest race six with 11-to-1
Hoofit
in the
Grade 3 Ogden Phoenix
from Keeneland, who paid $35.60 net ($25.60 to win, $10 to place) and nosed
Aikenite
in a 6-furlong sprint that featured the overrated
Flashpoint
. My prospects for a contest win and seat in the NHC Championship in January dimmed, however, in the next few races.
In contest race seven,
a $25k claimer at a mile on the turf at Belmont (the finale)
, all I can say is that my past performances sheet after the race had "HOLD ON, DAMMIT!" scribbled at the margins.
Knockinelder,
at almost 13-to-1, looked to me a credible front-runner against 3-to-2 favorite
Ms. Stilleto
and ran true to form, leading throughout and looking strong into the stretch even after dangerous early fractions of 23 and 46.3 but was nipped at the wire by the favorite and my alternate horse (
Derby Wars wisely lets players make an "alternate" selection in the event of late scratches - more intuitive than NHC Qualify.com)
, 17-to-1
Sheza Heartbreaker.
In contest race 11,
a $52k allowance at 1 mile-and-a-sixteenth on the Keeneland Polytrack
, I thought
Notoriety
made a lot of sense at 19-to-1 (up from 10-to-1 morning line and with the credible Martin Pedroza aboard). This 4-year-old gelding did not disappoint...except for
relinquishing what was looking like a victory in the shadow of the wire
to finish second by a neck to the third choice. Sitting in 65th place in the contest at that point, I was pretty certain the roughly $55-$60 payout would have vaulted me into at least the Top 10, but that is likely moot, considering in the contest finale I threw out the 26-to-1
Java Man
who ultimately helped Derby Wars.com contest player "Argie" take down top prize and a spot in Vegas in January.
Outcomes aside, NJ Horseplayer is very much looking forward to competing in upcoming Derby Wars.com tournaments, especially the Friday night NHC Qualifiers; yeah, it's a 1-in-300 shot, but $25 is the right entry price to take a shot. Backed by 2011 NHC Winner John Doyle, it is clear to me that this site was designed with the contest horseplayer in mind, and the organizers deserve a ton of credit for putting forth an excellent product!
The only thing more perfect for me would be to somehow get live odds during the contest, and to figure out more about what the "points" and "tokens" on Derby Wars.com mean. See you all next Friday at Derby Wars.com!